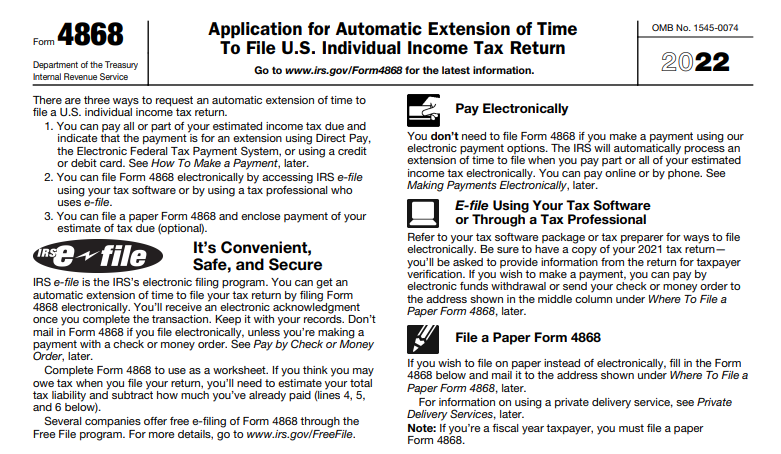 IRS Form 4868

E-File Requirements:

When Filing Your Personal Tax Extension Form 4868 you'll need,
Personal details such as Name, SSN, Address
Total tax liability & Payment for 2020.
Balance due if any.
How to E-file
Form 4868 electronically?
E-File 4868 Form

Online with ExpressExtension

ExpressExtension is one of the leading IRS-authorized, e-file providers.

E-filing IRS Form 4868 with ExpressExtension is the quickest and easiest way to file your tax extension. You can simply complete the form and transmit it to the IRS in minutes. There is no need to deal with complex paper forms anymore.

With our interview-style e-filing process, applying for the 4868 extension with the IRS is quick and easy. You can access ExpressExtension from any location at any time, with any web-based device, including smartphones and tablets.

If your Extension is rejected you can re-transmit it for FREE.

ExpressExtension supports an extension for every type of personal income tax filer, including
Federal Income Tax Returns (1040, 1040A, 1040-EZ, 1040NR, 1040NR-EZ, 1040-PR or 1040-SS)
1099 Independent Contractors
Sole Proprietorships (Schedule C)
Single-Member LLCs
What is IRS Form 4868?
IRS Form 4868 is the application for an automatic extension of time for individual or joint taxpayers to file their U.S. tax returns.
Personal Tax Extension Form 4868 automatically grants individual and joint filers a 6-month extension to file their Form 1040 - Federal Individual Tax Returns.
IRS Form 4868 also provides tax extensions for 1099 Contractors, Single Member LLCs, and Schedule C Sole Proprietors.
Important: Form 4868 tax extension does not extend the deadline for payment of any taxes owed.
When To File Form 4868 for 2020?
Form 4868 is due by April 15, 2021 for 2020 tax year. If you're out of the country or calendar tax year filer, you can file your return or this form by June 15, 2021.
If you are a Fiscal tax year filer, the deadline is the 15th day of the 4th month after your tax year ends. Find your 4868 Due Date.If you are a Fiscal tax year filer, the deadline is the 15th day of the 4th month after your tax year ends. Find your 4868 Due Date.
What are the late filing penalties for the individual tax return 1040?
The penalty for late filing of Form 1040 is
5% of the unpaid taxes for each month or part of the month that your return is late. This includes up to 25% of your unpaid tax.
If the 1040 tax return is more than 60 days late, the minimum penalty is $135 or 100% of the unpaid tax, whichever is smaller.
Failure-to-file penalties typically cost more than failure-to-pay penalties. To learn more about penalties, visit irs.gov.
If you need more time to file, you can e-file your tax extension in minutes with ExpressExtension.
E-file Tax Extension Form 4868 now and extend your filing deadline to avoid late filing penalties.
E-file 4868 Now and
Get 6 Months Extension

to file your 1040 Tax Returns