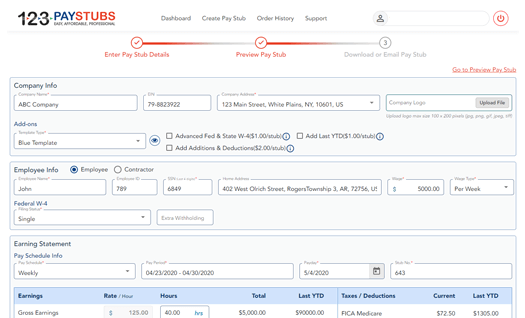 What information is required to
create pay stubs online?
Company Info:

Name, EIN, and Address

Employee or Contractor Info:

Name, ID, SSN, Address & Salary

Federal & State W-4:

Deductions and Withholding amounts

Pay Schedule Info:

Pay schedule, Pay period, and Payday

Gross Earnings:

Hours Worked

YTD Details:

Year to Date (YTD) values

Additional Earnings & Deductions if any
If you have the above information ready, you can start creating paystubs with our paystub creator.
Create Pay Stub in 3 Simple Steps with our
Paystub Creator Enter Your Information

Preview or Edit paystub

Download or Email paystub
Create Paystubs

using our Android and iOS Mobile App

Create pay stubs on the go. It's simple, easy, and accurate.
Frequently Asked Questions on
Pay Stubs How can I get my pay stub for free?
All you have to do is to visit 123paystubs.com and enter the required information such as company and basic employee and earnings details. You can then preview paystub, and continue to download it for free. All the calculations are accurate and will be calculated automatically based on the information that you provide. You can even add the second paystub to your order, but remember only the first paystub will be free of cost and you will be charged for the second paystub.
Can I change the paystub template after creating a paystub?
Yes, you can change the paystub template even after generating the paystub. You can preview, and change the paystub template as per your needs. The templates we offer are in different designs and styles. You can choose from any of our pay stub templates and
it is totally free.
How do I create a pay stub for a self-employed or contractor?
Be it an employee or contractor, you can create paystubs as simple as 1-2-3 with our paystub creator. There is no difference in the steps. You have to just choose a contractor and continue adding the required paystub information. And finally, you can
download it quickly.
Ready to use our

free pay stub creator?
Get started now and create pay stubs in minutes.