IRS Form 8868

E-File Requirements:

For Filing Nonprofit Tax Extension Form 8868 you'll need,
Organization details such as Name, EIN, Address
Tax Form for which you looking to apply for an extension
Estimated amount of the taxes you owe, if applicable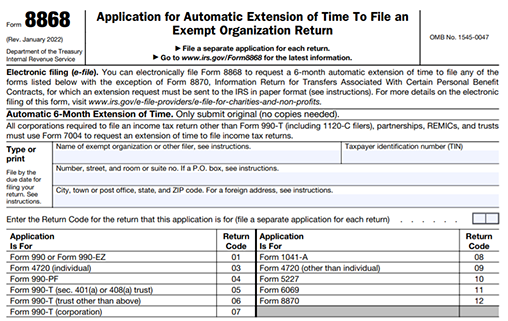 Choose ExpressExtension

to E-File 8868 Form
ExpressExtension is an IRS authorized e-file provider of Nonprofit tax extension forms.
Our step-by-step guide will help you to quickly e-file 8868 in a matter of minutes.
Our Internal audit checks put into place to make sure that you file your form accurately.
You will get the status of your extension Form instantly!
In case your Extension is rejected you can re-transmit it for FREE.
Frequently Asked Questions
What is IRS Form 8868?
Form 8868 is an extension form used by charities, nonprofit groups, and other tax-exempt organizations to receive an automatic 6-month extension to file Form 990. As Form 8868 is an automatic extension form, you don't have to provide a valid reason to the IRS for needing an extension.
Simply complete the IRS Form 8868 before the deadline or file 990, 990-EZ, & 990-PF with our sister product ExpressTaxExempt.
When is the deadline to file Form 8868?
The deadline to file Form 8868 is due by May 16, 2022.
If you are a Fiscal tax year filer, the deadline is the 15th day of the 4th month after your tax year ends. Find your 8868 Due Date.
What forms can extend using Nonprofit tax extension Form 8868?
You can extend the following Forms using 8868
Form 990 or Form 990-EZ
Form 990-BL
Form 4720 (individual)
Form 990-PF
Form 990-T (sec. 401(a) or 408(a) trust)
Form 990-T (trust other than above)
Form 990-T (corporation)
Form 1041-A
Form 4720 (other than an individual)
Form 5227
Form 6069
Form 8870
How to E-File Form 8868?
To e-file an extension for IRS Form 990, get started with ExpressExtension, an IRS authorized e-file provider, and complete your filing in a few simple steps.
Step 1: Enter a few basic information about your organization.
Step 2: Choose the form for which you are applying for an extension.
Step 3: Review Form and submit it to the IRS.
File Form 8868 on time to avoid any late filing penalties.
E-file Form 8868 Now

and Get Extension for your 990 Forms
up to 6 months