Instructions to File IRS Form 7004,
Application for Automatic Extension

of Time To File Certain Business Income Tax, Information, and Other Returns

- Updated Jul 01, 2020 - 8.00 AM

- Admin, ExpressExtension

Every business in the U.S. must report the income and expense annually with the IRS.

In case you need more time to file your 1120 tax return, you can use Form 7004 and get an automatic extension period of 6 months.
Choose ExpressExtension to E-file Form 7004
Quick and Easy Filing
Automatic Extension
IRS Requires no explanation
Instant IRS Approval
File from any Device
Volume Based Pricing for Tax Pros
US Based Support
Table of Contents
What is the purpose of IRS Form 7004?
The Form 7004 serves as a request for additional time to file business tax returns. This form is an automatic extension of time when filed properly with the IRS and the estimated tax payment is submitted.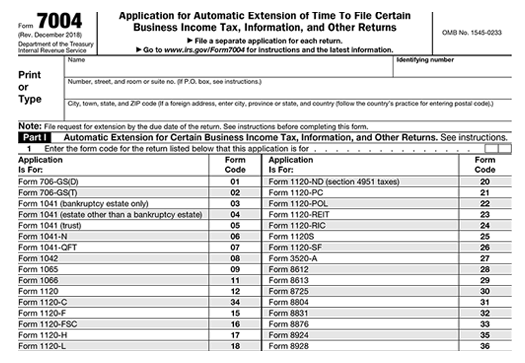 When is the deadline for filing Form 7004?
The Form 7004 is not required, therefore it has no set deadline of its own. The deadline to file this extension form is based on the form that you wish to extend. The Form 7004 must be filed on or before the original deadline of the form for which you are requesting an extension. For example if you are filing Form 1120 for corporations, you must file Form 7004 on or before April 15, 2021, the extended "tax day"
Instructions for Filing Form 7004
According to the IRS guidance for filing Form 7004, you will need the following information.
Your legal name, as this must match the name that the IRS has on record in their database.
Your Employee Identification Number (EIN)
The address of your business. If you receive mail at a P.O. Box, you will need to include this
address instead.
It is important to note that your mailing address must also match the address the IRS has on record. If your mailing address has changed since your last return, you will need to file Form 8822 or 8822-B to indicate that your address has changed. Indicating this on your Form 7004 alone will not be enough and this may lead to a rejection of your extension form.
It is also important for filers to know that the IRS does not permit "blanket requests". This means that you must file a separate Form 7004 for each return that you wish to extend.
The IRS also requires that you make your estimated tax payment on the original deadline. Your extension of time only applies to the informational tax return itself, not your tax payment.
Can I File Form 7004 Electronically?
Yes. Filing the Form 7004 is a great option that will likely speed up the process. As a matter of fact, given the current circumstances, the IRS is strongly encouraging everyone to e-file their forms with the IRS rather than mailing in paper forms.
After all, there are many benefits to filing electronically including an increased accuracy and more efficient time frame.
How Do I File With ExpressExtension?
Filing with ExpressExtension will allow you to e-file 7004 with ease and accuracy. Our software will walk you through the form using an interview style process for your convenience. This allows you to complete your extension in minutes.
ExpressExtension also gives users the option to submit their tax payment along with Form 7004 to the IRS via Electronic Funds Withdrawal (EFW) or the Electronic Federal Tax Payment System (EFTPS).
Simply create a free ExpressExtension account today to get started! You can complete your extension in minutes and pay only when you transmit to the IRS. We help you through the process start to finish, if your extension is rejected you can correct and retransmit it for free.
---
Ready to File Business Tax Extension
Form 7004 Online?
Get Started with ExpressExtension & file your form in minutes