Form 8868 Mailing Address
Choose ExpressExtension to e-file Form 8868
Quick and Easy Filing
Automatic Extension
Instant IRS Approval
File from any Device
Volume Based Pricing for
Tax Pros
US Based Support
IRS Form 8868

Mailing Address

- Updated December 08, 2022 - 8.00 AM Admin, ExpressExtension

IRS Form 8868 is the Application for Automatic Extension of Time To File nonprofit Tax Return. Make sure you send the forms to the correct address before the deadline.

The mailing addresses for IRS will vary based on the location. Make sure you have the correct address before you mail in the form.
Table of Contents
Nonprofits & Tax Exempt Organizations Returns that can be extended using Form 8868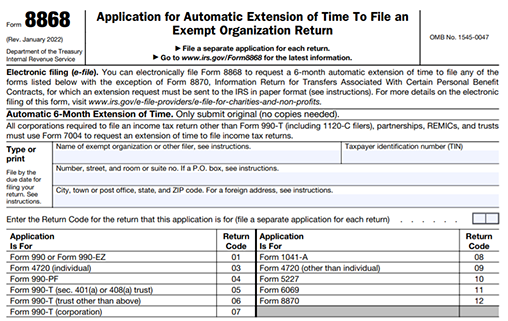 Note: The IRS always recommends Every Nonprofits & Tax Exempt Organizations to
file Form 8868 electronically for a quick Processing. Switch to electronic filing & Get Instant IRS approval. E-file Form 8868 Now and extend your deadline up to 6 months. File Form 8868 Now.
Form 8868 Filing Due Date
The Due Date to File Nonprofits & Tax Exempt Organization's return is the 15th day of the 5th month. If the Organization needs more time to File their return, they can File Form 8868 & Extend their deadline up to 6 months.
If Your Organization follows the calendar year, then it's time for you. Your Form is due by
May 15, 2023.

Form 8868 Filing Methods
Form 8868 can be filed either by Paper or by electronic Filing. But the IRS suggests
E-Filing for a quicker & Instant return processing. By Filing Form 8868 electronically helps to track the status instantly. Most of the Nonprofits & Tax Exempt Organizations already switched to E Filing for its intense features.

Why E-File Form 8868 with ExpressExtension?
E-filing IRS Form 8868 with our Software is the quickest and easiest way to file your tax extension. You can simply complete the form and transmit it to the IRS in minutes.
ExpressExtension makes your 8868 filing simple with these amazing features!
Quick and Easy to file
Instant IRS Approval
Automatic Extension
File from Any Mobile Device
US Based Customer Support
How to E-File Form 8868?

Enter Organization Details

Choose the appropriate IRS form which you're applying for an extension

Choose the organization's
tax year

Review Your Form &
Re-Transmit it
to the IRS

Advantage of E-filing over paper filing
IRS actually recommends the electronic filing of tax extension forms for the following Forms
There's no paperwork involved when you
e-file your 8868 tax extension
E-file Form 8868 to get the status instantly
E-filing is simple, convenient, and secure
E-filing saves you time and typo errors
Choose an IRS Authorized e-file provider like ExpressExtension to e-file your tax extension Form 8868 in minutes.
Form 8868 Mailing Address for the IRS
Organizations that choose to send a paper copy of Form 8868 must complete and send the application to:

Department of the Treasury,
Internal Revenue Service Center,
Ogden, UT 84201-0045.
An application for extension of time to file Form 8870 must be sent in paper format to the address above. Do not file for an extension of time by attaching Form 8868 to the exempt organization's return when it is filed.