Three Ways to file your Tax Extension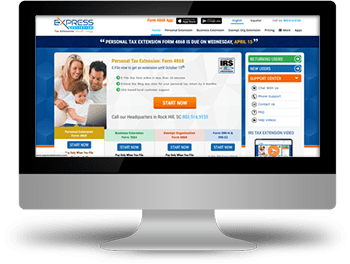 You can use our desktop version of ExpressExtension to e-file tax extension forms 7004, 4868 and 8868 & get an automatic tax extension in just a few minutes.
Start Return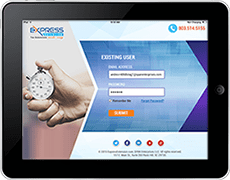 Now you can e-file your Business & Personal Tax Extensions with Form 7004 & Form 4868 from any location thanks to our iPad & Android tablet apps.
You can use your Smartphones to download our 4868 app to create a personal tax extension.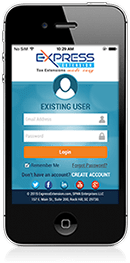 You can even e-file your tax Extension forms 8868, 4868, 7004 from any mobile browser.
Mobile Site:m.expressextension.com
Automatic IRS Tax Extension using Form 7004, 4868 and 8868
Need more time to prepare and file your federal tax return? ExpressExtension provides information on how to apply for an extension of time to file your Individual, Business and Exempt Organizations Income Tax Returns. IRS does not ask for a reason - it is automatic.

"Please be aware that an extension of time to file your return does not extent your time to pay your tax liability".
Automatic Extensions for Individuals, Corporations, Partnerships, LLCs, Estates and Certain Trusts
If you are not able to file your federal individual or Business income tax return by the due date, you may be able to get an automatic extension up to 6-months of time to file from the IRS.

To get an extension, you must e-file Form 4868 , Application for Automatic Extension of Time To File U.S. Individual Income Tax Return or Form 7004, Application for Automatic Extension of Time To File Certain Business Income Tax, Information, and Other Returns by the due date for filing your calendar year return (usually April 18, 2016 for individuals and March 15 for Businesses) for fiscal year return.

You can also e-file IRS Form 8868, Application for Extension of Time To File an Exempt Organization Return to get tax Extension of up to three months automatically and for additional 3 months using the not-automatic option.

ExpressExtension is an IRS certified electronic filing service provider. It provides easy to use, quick and secure navigation process to file IRS Tax Extension Forms 4868, 7004 & 8868. For more information contact at 803.514.5155 or e-mail us at support@expressextension.com
Support Center
Extension Form 8868
Now you can e-file Exempt Organization Form 8868 from your Mobile.
m.expressextension.com
Customer

Testimonials
$14.95?! That's it? Fantastic. This is the first time in 18 years I haven't had to go to the IRS office. I love you guys!

- Debbie L, Alabama

Thank you so much for your help. You made it real easy.

- Jamar T, New York

Liked the initial screen which presented clear options to click to start the return I wanted and showed the price.

- JANE F, Maryland

I appreciate your time. It's great to have this kind of support!

- Mario M, Oregon

Easy and quick. You helped me out of a jam. I am on the road all the time and things get away from you. This was a big help. Thanks

- Joseph M, New York

This is the first time I'm doing this and it's super easy. I called the other guys and nobody answered the phone. You guys picked up right away. So far I'm very happy and I will be recommending you to my friends. Thank you so much!

- Joe G, Ohio

...Wow, I wasn't expecting anyone to actually answer the phone. I called three other guys and nobody answered. You picked up after the first ring. I wish your company could do ALL my taxes!

- Gregg A, Nevada
}